I have taken a look at what trends are cropping up on our high street in the forthcoming months to help you invest your hard-earned cash and ensure you are fashion forward in 2012. Here are a few examples but keep an eye out for these trends when you are roaming the shops over the coming weeks.
Happy shopping : )
Head to toe colour block
This is colour blocking unlike we have known before, rather than combining clashing or unusual colours you select a colour and wear from head to toe, maybe varying the shade slightly between upper and lower body pieces or layering with different shades to tone the look down.
Versace influence
Versace inspired pieces will flood the high street this season, following the success of the Versace range in H&M recently.
Shirt by Topshop - £40
Shirt dress - £50 by Topshop
Dress by Motel - £28
Tribal
Batik style prints stole the show at Burberry, break it up with a block colour separate to keep it super-cool.
Topshop - £28
Brooch by Topshop - £12.50
Floral trousers
Not a big surprise for spring really, but floral prints will be seen on trousers rather than tops & skirts this season, so be brave but beware of the size of the print, if you don't want to make your legs look bigger than they are, opt for a smaller floral print and stick to the trouser style that suits your body shape and size. If you are unsure tapered leg trousers are generally the most flattering for long, thin legs, if not, opt for straighter leg trousers which wont emphasize your thighs.
ASOS floral print trousers - £40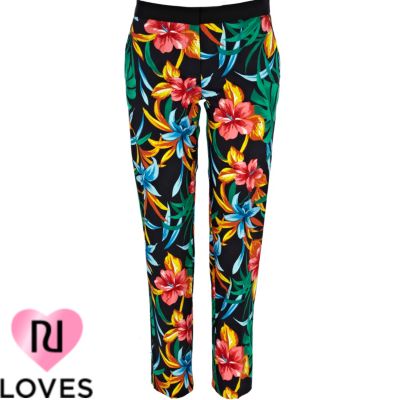 Trousers by River Island - £40
Drop waist dresses
The flapper style, drop waist dresses are going to be hot on the high street this season, personally I am not a big fan, because as a shorter person I think they can make your legs look shorter than they already are. They are ok for tall girls but if you are small like me, maybe avoid this trend or make sure the drop isn't too low and the skirt below is short to keep your legs looking as long as possible.
Laser cut
Laser-cut is the new lace for 2012 and can be used to go peekaboo sheer or layer slips or strappy tops underneath to cover up.
Dress by ASOS Black - £120
Rock a train
Varying hem lines have been rocking the high street over the previous few months and now they have made an impact they are here to stay. The trend is particularly present on evening gowns but it has also been incorporated into day skirts and dresses to allow us to rock the trend on a day-to-day basis.
Dress by ASOS - £35
Dress by ASOS - £48
Absolute 80's
The decade that everyone loves to hate is back again, influencing pieces across the high street. Off the shoulder tops, power shoulders and a flash of neon are must-have pieces for your SS12 wardrobe!
Dress by Motel - £32
Dress by Motel - £48