Another hot trend for SS13 is Monochrome. I am a huge fan of the Monochrome look, when worn right it looks chic and classic, but can also be worn with a splash of neon pink or electric blue to inject some colour into the outfit.
Monochrome isn't about just wearing plain black and white items, its about having fun with the variety of patterns and textures available to us. With the choice of floral, checked, spots, stripes, dogtooth or tweed there is an array of endless possibilities, and choices, for outfit combinations.
You could opt for a chic co-ordinate monochrome trouser or short suit, and combine with a florescent yellow camisole. Or you might select a monochrome floral peplum shirt like below, and pair with a pair of colour pop jeans and a simple black or white blazer.
I love the tweed black/white boucle cardigans and blazers which are perfect for teaming with a simple black bodysuit and a pair of jeans or skirt.
However you decide to wear this trend, just remember to have fun with it and don't forget to finish off the outfit with some chunky jewellery, a hat, belt or
bag and inject your own eclectic noughties style to what is a very classic trend.
Happy shopping = )
£35
£16
£37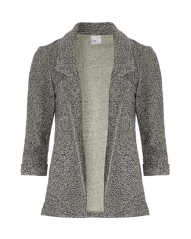 £70 £16

from George at Asda - buy in a larger size for an oversized boyfriend look
£37
£16
£39
£30
£35
£40
£40
£35
£14.99
£14 (George at Asda)